Key information
Function group and grade

AD 16, step 3

Place of employment

Brussels, Belgium

Type of contract

AD

Duration of contract

5 years

Estimated monthly basic salary

AD 16, step 3, subject to a multiplication factor equal to 101 % of the salary for that grade and step

Reserve list valid until

Area

Resolution Policy Development and Coordination
Profile
Selection and appointment
The Member of the Board and Director of Resolution Policy Development and Coordination will be appointed by the College of Commissioners on the basis of a shortlist provided by the European Commission.
To establish this shortlist, the European Commission organises a selection in accordance with its selection and recruitment procedures (see the Document on Senior Officials Policy (4)) as well as with the Single Resolution Mechanism Regulation (5).
As part of this selection procedure, the European Commission sets up a pre-selection panel. This panel analyses all applications, proceeds with a first eligibility verification and identifies candidates having the best profile in view of the selection criteria mentioned above, and who may be invited for an interview with the pre-selection panel.
Following these interviews, the pre-selection panel draws up its conclusions and proposes a list of candidates for further interviews with the European Commission's Consultative Committee on Appointments (CCA). The CCA, taking into consideration the conclusions of the pre-selection panel, will decide on the candidates to be invited for an interview.
Candidates who are called for an interview with the CCA participate in a full-day management assessment centre run by external recruitment consultants. Taking account of the results of the interview and the report of the assessment centre, the CCA establishes a shortlist of candidates it considers suitable for the function.
Candidates on the CCA shortlist will be interviewed by the Member of the Commission responsible for the Directorate-General in charge of the relations with the SRB.
Following these interviews, and after hearing the Board in its Plenary Session, the European Commission adopts a shortlist of the most suitable candidates. Inclusion on this shortlist does not guarantee appointment.
This shortlist is transmitted to the European Parliament for approval; at the same time, the Council of the European Union is informed. The European Commission shall then submit a proposal for the appointment of the Member of the Board and Director of Resolution Policy Development and Coordination to the European Parliament for approval.
Following approval of that proposal, the Council, acting by qualified majority, adopts an implementing decision to appoint the Member of the Board and Director of Resolution Policy Development and Coordination. Candidate may be required to undergo further interviews and/or tests in addition to those indicated above.
Candidates should note that the shortlist could become public once it has been adopted by the European Commission.

Read Vacancy Notice in the OJ: https://eur-lex.europa.eu/legal-content/EN/TXT/HTML/?uri=OJ:C_202300086
Recent vacancies
No open vacancies at the moment
Why work for the SRB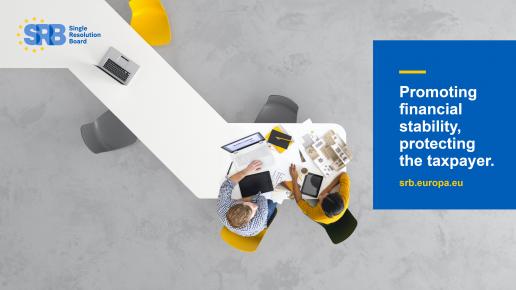 At the SRB, we believe diversity creates excellence – more diverse staff members mean a wider range of opinions, leading to better and more robust teams.
We aspire to be an organisation in which diversity is welcomed and appreciated. Enabling diversity is vital to our institution to deliver the best possible outcome for our staff and for the Banking Union. The facets of diversity include – but are not limited to – gender, nationality, religion, sexual orientation, ethnic origin, age, cultural background and disability.
The SRB supports our colleagues with disabilities to ensure that their work-related needs are accommodated to the best extent possible, and also provides help to disabled job applicants during the recruitment process.
The SRB offers a long-term career perspective and attractive working conditions, which are in line with the Staff Regulations (SR) and the Conditions of Employment of Other Servants of the European Communities (CEOS) applicable to EU institutions. We offer a number of different contracts, as detailed below.
You will be working in a dynamic, fast-growing multicultural environment, with colleagues from across Europe. Here at the SRB you will face various challenges, explore varied opportunities and experience a people-centred working culture that gives you a voice, influence and the remit to make an impact for the benefit of EU citizens.
We value our employees, and you will have many opportunities to develop your personal and professional skills throughout your career. SRB aims at creating and maintaining a healthy work environment promoting initiatives that enable staff members to have the right balance between work and personal life.
The basic monthly salaries (in EUR) for Temporary Agents for each grade and step in function group AD, AST and AST/SC are referred to in Article 66 of the European Commission Staff Regulations, applicable from 01 July 2017.
The recruitment process (how to apply)